The Students
From kindergarten to 4th grade (June 2019) there are 11 classes of 20 students , with a generally equal number of boys and girls.
A new  class is opened each year to follow the progression of the oldest into the Secondary.
The children at the School are identified on a ''poorest first" policy by a permanent social survey.
Vellai Thamarai provides free uniforms, school stationary and schoolbooks.
Children's health is a permanent concern and meals and snacks are free ; they are very balanced, composed by rice, fresh vegetables, milk, yoghurt and fruits. Some products (rice, vegetables, and fruits) come from market- gardening around the School.
Daily hygiene is taught, a full time nurse is available and annual medical check-ups are carried out by independent doctors.
The staff consists of 14 state-qualified teachers. In addition, many European volunteers come to teach French and conduct creative activities, games or sports.
Read more
Here is the agenda for a typical day for second graders (other days of the week being dedicated to sports and outdoor games):
8.30 / 8.45 : Welcome, reminder of life values, flag raising ceremony (as elsewhere in India)
8.45 / 9.30 : Tamil
9.30 / 10.15 : English
10.15 / 10.30 : Snack
10.30 / 11.15 : Asana (yoga postures)
11.15 / 12.00: Mathematics
12.00 / 12.45: Sciences
12.45 / 13.40: Lunch
13.40 / 14.20: Written English
14.20 / 15.00: Dance
15.00 / 15.10: Snack
15.10 / 15.50: Social Sciences
15.50 / 16.30: Singing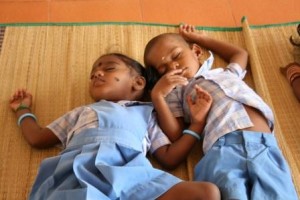 The Vellai Thamarai creche allows mothers to go to work. As of today, 20 children are admitted. Children have toys at their disposal and participate in traditional activities such as singing, nursery rhymes, games, and storytelling. Like all the other students, they are given a free uniform, a complete meal for lunch and 2 snacks during the day.