Facts and Figures
The School hosts 220 students from June 2019 for the year 19-20. All costs are free of charge for these under-priviledged children : teaching, meals, school supplies, uniforms, health care and control.
EXPENDITURES: Vellai Thamarai India
Annual operating expenses amount to 123.580 €, i.e. 562 € per student for the last school year (2019-2020). Salaries represent 70% of the total : teachers put some pressure on their salary level which is moderate as compared to that of teachers in the public system, and we have to rely on our School values to attract and enthuse our teachers.
FINANCING SOURCES : Vellai Thamarai France
From the origin, the French Association has been the key contributor for the financing of operations at the School. Nearly all funds collected (94,2% for fiscal  year 19-20) are allocated to Vellai Thamarai India. The French Association only bears administrative and promotional costs, without any salaried personnel charge. Funding sources have diversified :
• Membership fees and personal donations,
• Proceeds of workshops and training courses,
• Donations or grants from Associations, Foundations, Institutions,
• Proceeds of events organized by Vellai Thamarai's members.
After a record 18-19 year in terms of income, the year 19-20 shows a 25% decline due to unusual turbulences: Gilets jaunes (Yellow jackets) actions, long strikes, outbreak of Covid etc..And the current year projections indicate a heavy income deficit as the Covid impact is total. A call for an exceptional donation is now processed to Vellai Thamarai friends with the objective of weathering this very difficult period and cover the School operating costs of 124.000 € (mainly salaries) until the pandemic is under control and our income producing activities resume.
Here is a representation of Vellai Thamarai income for the last 3 years, and a forecast for the next 2 years :

Read more
Financing Sources
Ajit and Selvi Sarkar's personal financial commitment allowed the start of the project and provided for initial investments. The French Association contributes substantially to the support of operating costs.
In France, Vellai Thamarai's average annual income for the last three years is 176.000 €, showing a global increase but with irregular  annual increases or decreases. This constitutes a fragility factor for the School.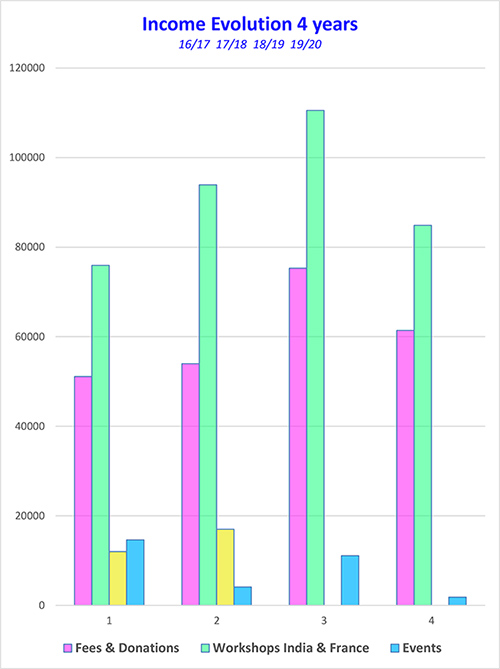 Specific funding sources are :

• Membership fees and donations made by friends of Vellai Thamarai (over 600),

• Net revenues and donations from workshops and training courses run by the founders and other teachers in France and in Puducherry,

• Donations,  skills sponsorship programs, or grants related to  Associations, corporate Foundations, NGOs, Schools etc… Among our historic sponsors : Air France Foundation, Yara LNC ( Les Nouveaux Constructeurs), Le Secours Populaire, Voxens, Harmonie Mutuelle Group, Société Générale Bank in India, Crédit Foncier, Vinci Group, Thalès Fondation , Banque de France, Groupe Briand…

• Proceeds from events such as dance shows, gift wrapping, Christmas Markets, solidarity theater performances, Yoga Festival.
Operating costs
Structural administrative and support costs (G & A) are well  under control ; material flows  are improved, and economies of scale are obtained. On average over the last 3 years, students « living costs » amount to 104 € per student per year and we need around 10 € monthly to cover these costs. Food represents close to one half (average of 46 % for the last 3 years). Per diem food cost per student is 0,26 €.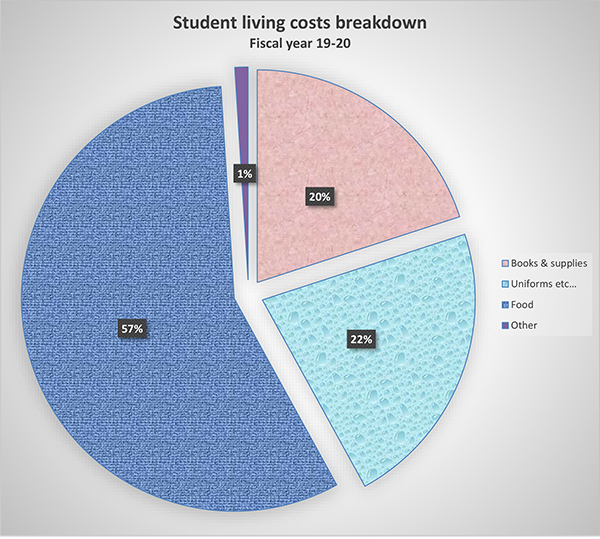 Recurring annual costs for the School grow with the number of students and related staff. In addition, costs are impacted by general inflation, and by the necessary catch up in salaries.The School quality of management is measured by a global index : the total operating cost per student at 561 € in 19-20. The average annual increase rate of 4 % over the last 3 years is significantly below the inflation rate.