Facts and Figures
The School hosts 20 new students each year and has grown from 80 students in 2008 to 220 for the June 2017 school year. The School is free of charge.
EXPENDITURES: Vellai Thamarai India
Annual operating expenses amount to 102,000 €, i.e. 551 € per student for the last school year (2016-2017). Taking inflation into account, the operating budget must now include a yearly additional amount of 11.000 €  to open a new class.
FINANCING SOURCES : Vellai Thamarai France/USA
From the origin, the French Association has been the key contributor for the  financing operating costs at the School. Nearly all funds collected ( 98% in 2016) are allocated to Vellai Thamarai India. Funding sources have diversified over time, and we should address digital resources soon :
• Memberships and personal donations,
• Proceeds of workshops and training courses,
• Donations or grants from Associations, Foundations, Institutions,
• Proceeds of events organized by Vellai Thamarai's members.
The recent American Association , based in California , uses an operating scheme similar to the French one.
Read more
Financing Sources
Ajit and Selvi Sarkar's personal financial commitment allowed the start of the project and provided for initial investments. The French and American Associations contribute substantially to the support of operating costs.
In France, the average annual income for the last three years is 145,600 € ,consisting in an uneven and irregular increase. Specific funding sources continue to become more diversified:
• Membership fees and donations made by friends of Vellai Thamarai (over 600), and proceeds from events,

• Revenues from workshops and training courses run by the founders and other teachers in France and in Puducherry,

• Donations, skills sponsorship programs, or grants related to  Associations, Corporate Foundations, NGOs, schools. Among our sponsors : Air France Foundation, Yara LNC (Les Nouveaux Constructeurs), Secours Populaire Français, GIP, Voxens, Harmonie Mutuelle Group, Société Générale Bank in India, Crédit Foncier, Thalès Foundation.
Operating costs
Recurring annual costs for the School grow with the number of students and related staff. In addition, general costs are impacted by general inflation, and by the necessary catch up in salaries, particularly for the teaching body. Administrative and Support costs (G & A) are well under control. Students "living costs" (98 € per student per year) are constituted by food costs for 55%.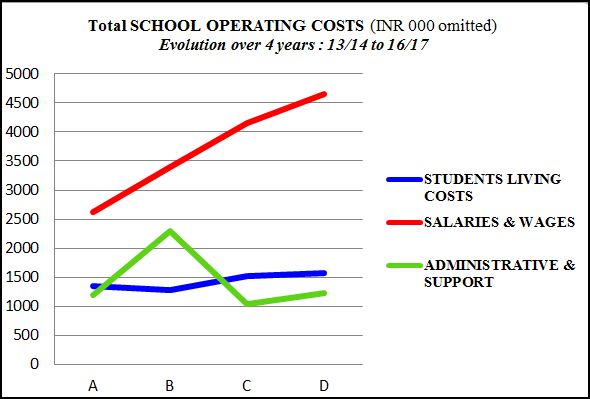 The School quality of management is measured by a global index : the total operating cost per student which has increased by 10% annually for the last 4 years. This is a good performance, particularly when taking into account the salary component of this cost.