Organization
Vellai Thamarai in a nonprofit Indian association in charge of implementing the educational and social project of its founders. Ajit Sarkar, who serves as President, and Executive Committee members are all volunteers. The school and its activities are run by local managers who ensure the implementation of decisions.
The French association's mission is to promote Vellai Thamarai and to obtain the financing for its development in Puducherry.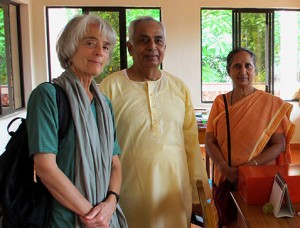 Having Ajit Sarkar as President, Vellai Thamarai France's operational responsibilities are ensured by Marie Hélène Demey, vice president, and members of the Board, all volunteers. Donations are tax deductible in France.
Read more
Vellai Thamarai India
"Vellai Thamarai India Educational, Social & Cultural organization", was established in 2006 under the Societies Registration Act XXI of 1860 and its headquarters are in Puducherry (official name of Pondicherry in tamoul). Its Board of Directors is composed of 7 members including Ajit Sarkar, founding President.
Vellai Thamarai France
Vellai Thamarai France, an Association under the law of 1901, was established in 2006. Its headquarters are in Paris 14th. Board members are:
Ajit Sarkar, President
Marie-Hélène Demey, Vice-President
Marie-Hélène Kindler, Secretary
Dominique Poullot, Finance sourcing Officer
Marie-Odile Tesnière, Responsible for Workshops and Training courses
Catherine Doupeux, Administrator
Roya Vafa, Treasurer