Vocational Training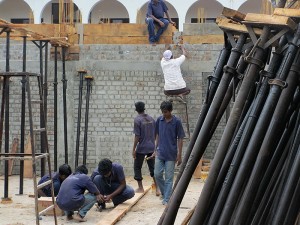 On the occasion of the construction of the Kitchen/Dining Building (2014-2015), an apprenticeship program in construction fields was proposed thanks to the sponsorship of a French partner.
The  aim is  to allow  a few teenagers who have failed at school to acquire skills for a promising construction craft profession. Two young trainees have been employed by the School.
Vellai Thamarai is considering the possibility of launching a vocational training program for girls as well.
Read more
The program of the boy training  is composed of :
• General training ,
• On-the-job training ,
• Remedial night classes (reading, writing, English, mathematics, Tamil).